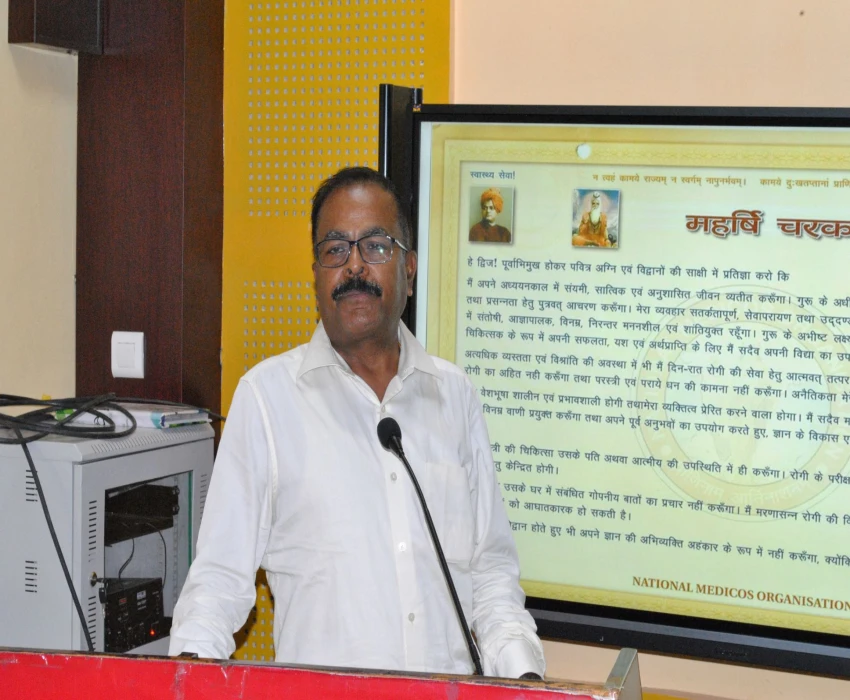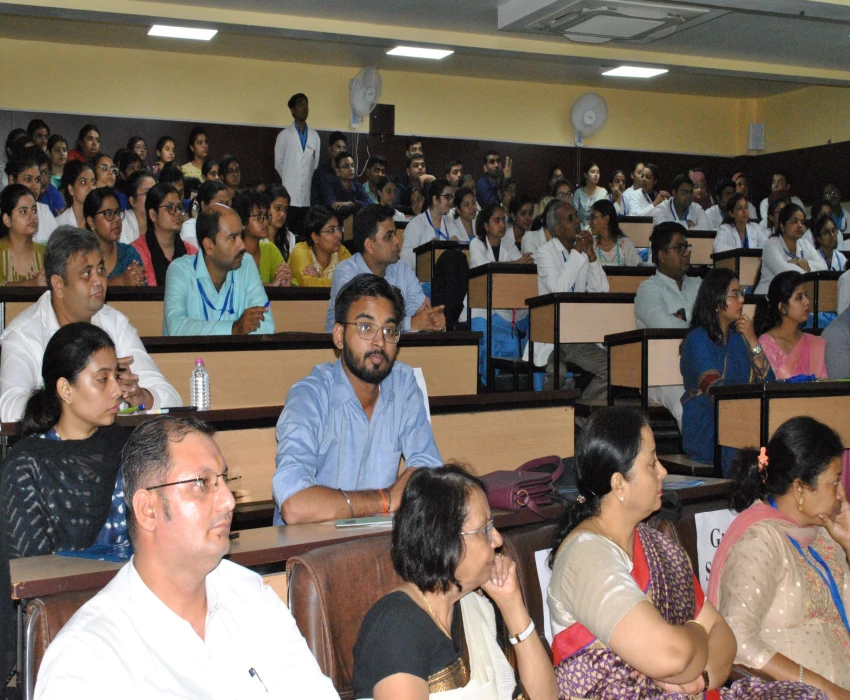 SDC Anatomical Society with collaboration of Saraswati Dental College organized CME- CDE workshop by Dr.A.K. Srivastava (President & Chief Organizer) on date 27-9-23. Inaugural function was conducted by Chief guest Honorable Vice Chancellor Prof. (Dr.) Sanjeev Mishra of Atal Bihari Vajpayee Medical University (UP, Lucknow) with lamp lightening ceremony It was celebrated by 350-400 approx. Guest, Delegates and participants.
This program was in presence of Guest of Honor Dr. Alok Kumar, Secretary (MCI, UP LKO), Prof.(Dr.) Lokesh Agarwal (Dean, Medical Faculty) and Mrs. Madhu Mathur (Chairperson SDC) Dr. Rajat Mathur (President), Mrs. Smita Mathur (Director SHRC & BSM College of Nursing) were present as a Guest of honor.
All other guests from different Medical and Dental colleges attended the program. Senior anatomists Prof.(Dr.)A. Halim (Ex Prof & Head KGMU, LKO), Prof. (Dr.) D.R Singh, Prof. (Dr.) M.S Siddiqui, were honored and Senior Anatomists Prof. A. Halim was honored by "Lifetime Achievement Award" by Honorable Vice Chancellor.
Unveiling of the Journal of SDC Anatomical Society was conducted by Chief guest, Guest of honor, Management and Principal of SDC and also unveiling of the "Spotlight wall" of Department of Anatomy by VC Sir take place.
After the inaugural function CME- CDE Workshop was conducted by guest speaker Prof.(Dr.) Narsingh Verma (KGMU, Lucknow) & Prof( Dr) Jyoti Chopra(KGMU, Lucknow), Prof. (Dr.) Anita Rani (KGMU, Lucknow), and Prof. (Dr) Devendra Chopra (SDC,Lucknow).
Lectures and workshop were conducted in field of Medical and Dental Education i.e., "Assessment in
Competency- Based Education in Medical and Dental Sciences and Ethical Principles of Medical & Dental practices, and lecture on Future of dental education in India", MCQ formation and validation workshop was organized.
110 Delegates were participated in above program and provided certificates of CME-CDE (DCI and MCI Accredited 3 points) the program was closed by Vote of thanks.