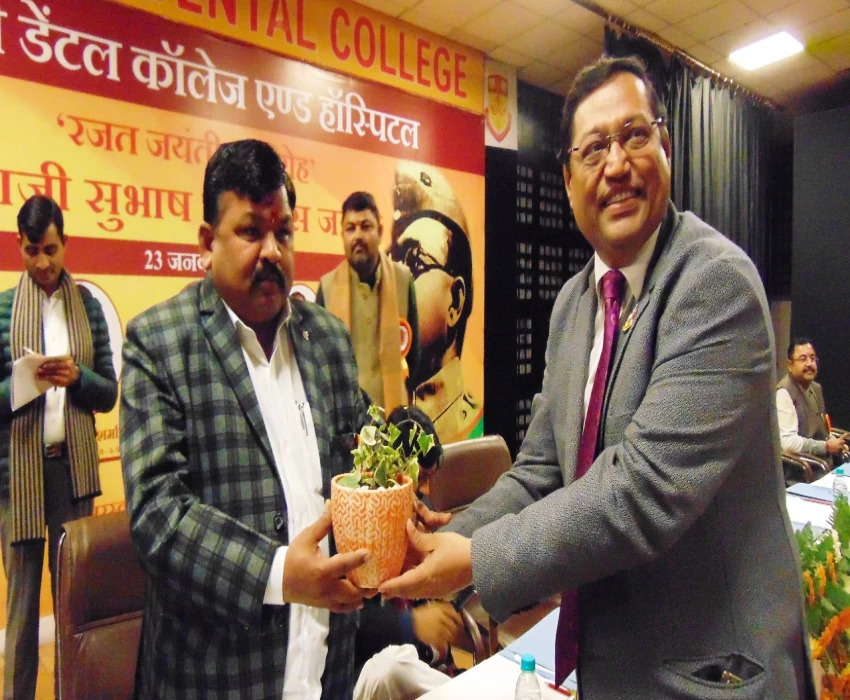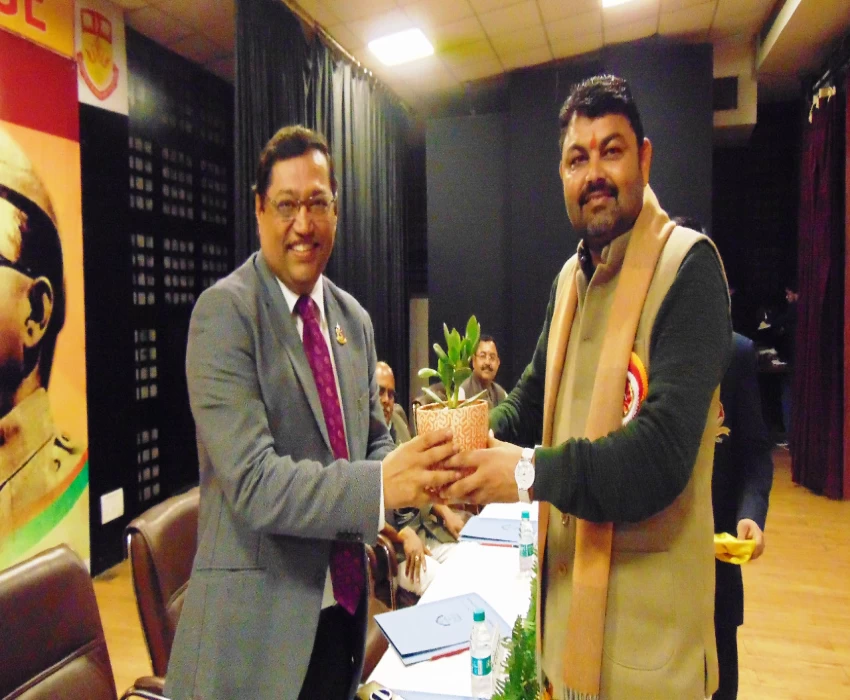 On 23rd of January 2023, Saraswati Dental College celebrated Netaji Subhas Chandra Bose Jayanti as an extension of their Silver jubilee celebrations.
Netaji Subhas Chandra Bose was An Indian Nationalist whose defiance of British Authority of India made him a hero among many Indians. His life inspires all the youths of our nation. 23rd January is celebrated as 'Parakrama Diwas' on his birth anniversary.
Following the inauguration of the event by the chief guest Mr. Kaushal Kishore, Minister of State(Housing and Urban affairs,Govt of India) who is also the Mukhya Sanarakshak of the Netaji Subhas Sewa Sansthan,a lamp lighting ceremony was performed by all the esteemed guests . Netaji's documentry was screened at the event.
The prestigious guests of the event were MLA Mr. Amresh Kumar, Mr. Mukesh Sharma, Member Vidhan Parishad, Mr. Rishikesh Pandey, DIG, Varanasi, Padmashree Dr. Shiv Narayan Kuril, Professor & Head, Department of Pediatric Surgery, KGMU, Lucknow.
The management of the college was also present at the event ,headed by Mrs. Madhu Mathur, Chairperson, Saraswati group of Institutions, Dr Rajat Mathur, President, Saraswati group of Institutions and Mrs Smita Mathur, Director Saraswati hospital and Research Centre .The Principal of the Dental College Dr. K.N. Dubey, Vice Principal, Dr. Pradyumna Misra, Dean P.G. studies, Dr. Arvind Tripathi, Dean U.G. studies, Dr. Soumya Navit were also present at the event.
The other guests included the representatives of Netaji Subhash Sewa Sansathan, Mr. Om Prakash, Sachiv, Mr. Sandeep Singh, Up Sachiv, Mr. Rakeshji, Sansathan Sanarakshak, Mr. Fateh Bahadur Singh, Vice President.
Dignitaries of various other fields like Mr. Shiv Kumar Singh, Director, Lok Bandhu Raj Narayan Inter College, Mr. Ghanshyam Mishra, Senior leader of BJP, Mr. Pradeep Singh, Director, Zedek Parenteral Pvt. Ltd., and Dr. Atul Verma, Superintendent, CHC, Chinhat were also present.
The undergraduate students and Interns were also present in the programme where they were enlightened about the life of the brave Nationalist.The Chief Guest for the event explained to the students the importance of protecting the legacy of our freedom fighters.

The event concluded with an oath taking ceremony followed by the National Anthem.